BMet stand with those appalled by George Floyd Death
We stand alongside all those who are appalled and horrified by the way George Floyd died and hope that justice and accountability follow.
A truly devastating situation, which alongside other global tragedies, has been recognised internationally, nationally and locally.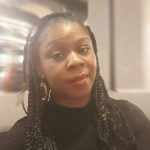 Natalie Alleyne Chair of the BMet BAME Network discusses the profound impact it has had on her:
"As a member of the black community, mother to a black son and sister to a black brother, I have been profoundly affected by the senseless murder of George Floyd.
"As I write this my heart breaks, not only from flash backs of disturbing media images that will forever be embedded in my brain- but at the fact that in my life time I have lived to see yet another example of the de-humanisation of the black race.
"BMet is an FE institution with a BAME majority student body, alongside having a large cohort of BAME staff. We strongly hold onto our values of fairness, equality and inclusion. Therefore, its constituents should continually recognise the issue of racism and offer any necessary levels of support to students and staff.
"So, what, if anything can WE learn from the racially motivated deaths that occur locally, nationally and internationally?
"The first thing we as humans of all races must do, is admit that racism does in fact exist. Then, we should all do much better at speaking out about instances of racism, alongside seeking to eradicate any form of racial inequality that we see playing out in our day-to-day lives.
"As the late James Baldwin states "Not everything that is faced can be changed, but nothing can be changed until it is faced!"
"If we are to effectively inspire the futures of the young BAME people within our community, we must continually ensure that we are creating spaces of racial equality in which they can successfully realise their dreams."
I as a member of the Black community, education sector and the BMet family, pledge to continue to speak out against racism- Natalie Alleyne
Click here to see a message sent to students.