Access to Higher Education
Important notice for current students
On Friday 03 April, the UK's Quality Body for Higher Education (QAA) confirmed all Access to HE students will now receive calculated grades for remaining assessments with submission dates after the 20th March.
Please do continue with your studies – your tutors are here to support you.
If you are due to sit exams later in the year, exams may be rescheduled, or an alternate method of assessment may be applied.
For more information from the QAA on this please click here
QAA will continue to provide updates for all Access to HE students and we will share the latest updates with you.
Do you have a career in mind that is likely to require university level study?
BMet offers a wide range of Access to Higher Education courses, these courses are aimed at adults aged 19 and over. Access courses develop your study skills, build confidence and allow you to experience different subject areas within your chosen area of study, to prepare you for university.
Access courses are ideal if you missed out on an opportunity to study previously. Each year, many of our learners gain entry to some of the UK's most prestigious universities, including local institutions like Warwick, Aston and Birmingham.
 If you're aged 19 or over, you can apply to the government for an Advanced Learner Loan. This loan does not have to be paid back if you then go onto successfully complete a degree.
Access to Higher Education Entry Requirements
Entry criteria vary according to the Access Course you're applying for but generally speaking you'll need numeracy and literacy skills at Level 2 and some previous experience in your chosen area of study – this could be from life experiences, voluntary or paid work. Once you apply, you will be invited in to discuss your qualifications, goals and about the course with a tutor.
Progression for Access to Higher Education Students
Successful students can progress onto university level study, including degrees, foundation degrees, higher national diplomas and certificates.
You don't have to go far to go higher!  You can study at university level here at BMet, with lower fees and smaller class sizes.  Some of our courses are run in partnership with well-established universities; Birmingham City University, University of Derby, University of Wolverhampton and University of Worcester.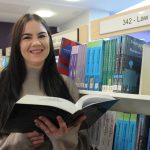 Hayley Copage – Access to Law & Criminology "The coursework was mainly essays, although there was project work too.  One of these involved me looking at the correlation between drug use and adolescent crime.  I interviewed people and analysed statistics so that I had enough evidence to back up my arguments." Progressed onto LLB qualifying law degree, Coventry University.