Employer input at event set to propel new strategy
Twenty-five key local employers attended a breakfast meeting earlier this week to help BMet shape its strategic plan.
The planned new strategy will set the future direction of BMet and its three Birmingham based colleges – James Watt College, Matthew Boulton College, Sutton Coldfield College.
The strategic breakfast meeting was hosted by BMet Principal Cliff Hall and saw big businesses across the city lend their support to discuss the strategic direction of the college.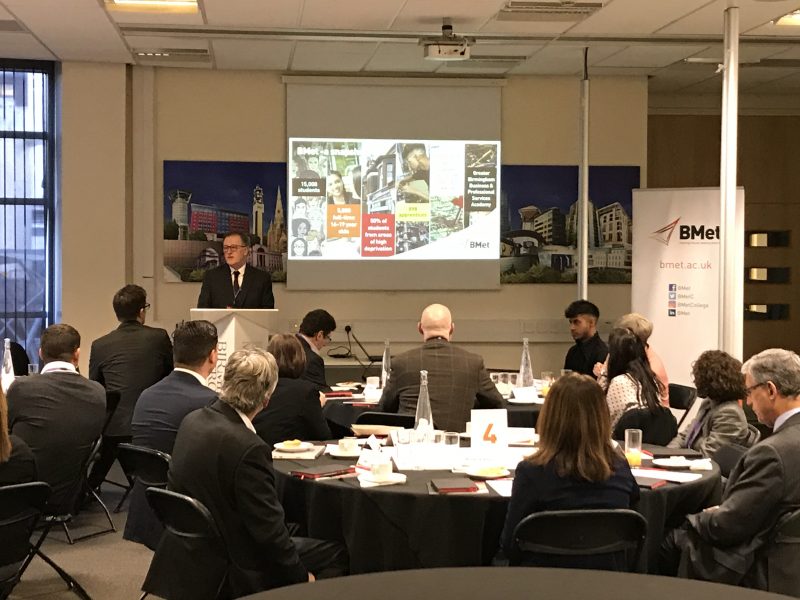 The new strategic plan comes just over 12 months since a college restructure that saw the appointment of Assistant Principals across the three BMet colleges.
The breakfast meeting held on Wednesday 12 February was a chance to meet with key influential stakeholders to help on the development of the BMet 2020/2023 strategic plan.
The event centred around three simple questions:  1) What do employers need from us? 2) What should we be doing that we are not doing? 3) What should we aspire to?
The questions led to some very meaningful conversations that will help to shape the strategic plan.
Alongside the development of the plan is a reshaped vision and values for the college – currently in consultation with staff and students.
Commenting on the event, BMet Principal Cliff Hall, said: "We want to ensure our students go on to have successful careers therefore it is vital that we listen to the needs of employers as we shape our new strategy.
"In drafting this strategy, we are keen to ensure that we use local knowledge, the latest research and draw on our own collective experience, imagination and creativity to ensure that we are offering something that improves the quality of lives of our students and their families. He said.
"Ultimately, we want to set out our vision for an improved student experience that will prepare our students to lead, innovate and drive change in the region and beyond."
The strategy is due to be launched in the spring of 2020.